As a diviner, I answer questions about relationships all the time. It's the number one reason why folks request spiritual readings!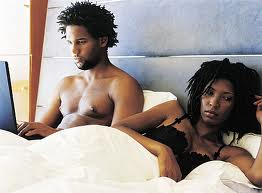 But sadly many clients are not in healthy relationships. Before I even divine it is often clear to me that deep down inside, their own intuition is trying telling them something they refuse to hear – the bitter truth that their current mate or potential mate is not right for them and may never be right for them.
Yet, they cling on, desperately trying to save a relationship that brings no peace and is destined to fail.
As I listen to clients, it is clear that their own Spirit knows the right answers. But what is not clear is why they keep making bad choices. The warning signs are often there: emotional and sometimes physical abuse, constant fighting, fear, insincerity and disrespect.
Why stay in a relationship that is not healthy for you?
And I also counsel clients who recently left one relationship and are anxious to start another one.
Well, until you heal yourself and/or deal with yourself there's really no sound reason to rush into another relationship. Without self-fulfillment, no relationship will ever fill the emptiness you feel inside. The most important relationship to cultivate is the one within, and this is where your focus should be. Learn to love you. Give yourself the respect that you crave from others. Don't settle for anything or anyone.
And make sure your life does not revolve around your relationship. Discover your passions and pursue them. Where you find passion, you will also find Spirit. I believe that passion is closely connected to vision, and if you follow your vision you will never go wrong. It's not always easy, but at least your vision will lead you on the road to self-fullfillment and the source of your own power.
Another key to happiness is to shift your focus. Instead of focusing on things you cannot control, focus on what you can control and how you can be of service to others. Sometimes we make ourselves miserable by focusing too much on ourselves and how others have let us down. Even as you go through your challenges, try to be there for others.
Know that healing is possible. Be committed to your own healing. Be a vessel for the healing of others.
Blessings
James