Belated Happy New Year to you and your family…

Please know you can count on my support as you navigate through 2020.

I saw Steel Pulse — one of my favorite reggae bands — in concert, two days before the new year began.

Seeing them in concert brought back lots of memories, but it also made me think of you and me and your new year goals.

I assume you made some goals:)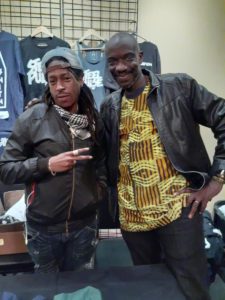 Now wait, I'm sure you're wondering why being at a Steel Pulse concert would make me think about you and your goals.

Let me explain…

I met David Hinds, the lead singer of Steel Pulse on St. Croix in my mid-twenties. I was working as a news reporter at the time, and was blessed with the opportunity to spend a few hours interviewing David in his hotel room.
He told me what it was like being a musician and a Dad, and the band's commitment to fighting injustice and racism through music. I asked what was going through his mind when he wrote Wild Goose Chase, Soldiers and some of his other hits.

He has to do lots of finger exercises to keep his fingers nimble while playing the guitar.
And David also told him something I'll never forget…

It's not easy touring and being on stage night after night, he explained, and that's when he has to rely on sheer talent and discipline to get him through a performance.
David's comment about self discipline is very much connected to your New Year goals.
Can't hit your goals if you're not disciplined or consistent.

Let's be honest….

How is 2020 going so far for you? It's the middle of the month. Have you been doing what you said you would do? Do you have clarity about what you want to achieve in 2020?

Do you have someone to help keep you accountable?

You don't have to hit your goals all at once. You can break them down into daily, weekly, monthly and quarterly goals.

I would love to hear what you're working on…

As for me and my goals? I'm working on getting my book, Meditations Across The King's River into more stores, and I expect to get a lot of shooting on my film completed.

I'll also be doing book talks at colleges and universities, and hope to come to a city near you.

I bought a Steel Pulse T-shirt at the concert to remember the moment and my commitment to crush my goals this year.

Knowing David, I'm sure he's still working on those finger exercises…
Didn't get a chance to see David up close in person, but I was blessed to take a selfie with his son, Baruch, who was selling T-shirts and other merchandise.

The last time I saw Baruch this close was when David let me ride on the tour bus with them from Oakland to Santa Cruz back in the 90's. Fun times. How time flies.

Anyways, this is all for now. Respond to this blog and I'll definitely write you back.

Again, Happy New Years from us in King's River Land.

Talk soon
All my love.
P.S. Still available for spiritual readings. P.P.S. If you would like a signed copy of my book, email me at james@acrossthekingsriver.com, and let me know if you prefer to purchase a softcover cover or a hard cover.
James Weeks Meditations Across The King's River