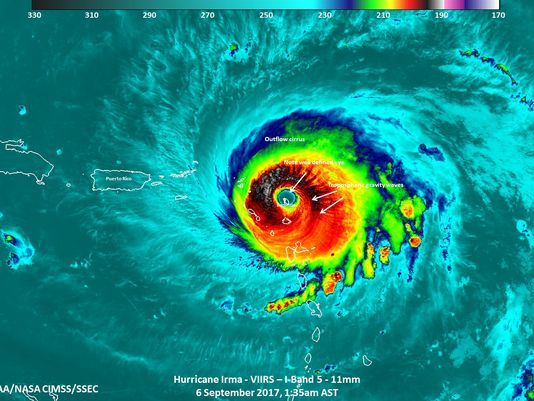 It's been a challenging month…
A 7.1 earthquake in Mexico leaves 331 dead.
Meanwhile, back home in the Caribbean, we face the daunting task of rebuilding from the rubble left behind by Hurricanes Irma and Maria.
On the island of St. Croix, where I'm from, we're still trying to assess the damage. Thankfully, my Mom is safe, and as far as I know friends and family are safe as well.
But the financial and emotional strains will be with us for a long time.
The prime minister of Dominica described Hurricane Maria as "merciless" and left "mind boggling devastation" in her wake.
In Puerto Rico, the passage of Irma, then Maria, has left most of the population without electricity, drinking water or food. Many clinics and hospitals are closed. Like elsewhere in the Caribbean, many lives are at risk.
My Uncle Gerry was the first person to alert me when Hurricane Maria was on the way. He texted me over the weekend. "We are in a predicament," he wrote. "Hurricane Maria formed in the Atlantic and might hit us."
I haven't spoken to Mom since the hurricane because with the exception of AT&T, there's no cell phone or landline service. My Uncle assures me Mom is in good spirits despite the chaos.
In just two weeks, so many islands, economies and hearts have been devastated.
But we will rebuild. We have no choice. Hopefully, we will emerge stronger and wiser. Each crisis reminds us how much we need each other, how everything is interconnected, like it or not. And each crisis is a reminder that each moment is precious and must not be taken for granted.
These hurricanes, in their own way, are also telling us that global warming is a very real, very dangerous and must be seriously addressed. The earth is rebelling, and world leaders ought to take heed because too many poor people are paying the cost.
Many organizations are helping hurricane victims in various islands. Here's a list of a few of them, but I've also included a link for victims of the recent 7.1 earthquake in Mexico.
Thank you in advance for your support. A donation of any amount can help save lives.
Blessings
James
USVI Recovery: https://www.usvirecovery.org/
United For Puerto Rico: http://unidosporpuertorico.com/en/
Direct Relief: http://bit.ly/2ykLOax
UNICEF Earthquake Relief: http://bit.ly/2xmD3Qq
Blessings
James Weeks
Producer, Across The King's River