YOUR VISION IS READY WHEN YOU ARE
Across the King's River:
Finding and Fullfilling Your Life's Purpose.
A Documentary Film by James Weeks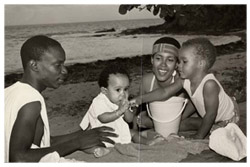 After the death of his biological father, James takes his daughters to meet his spiritual "father" before he dies too.  Along the way, they meet some of the most renowned healers and sages of the African continent. Aseda, James' spiritual father, is a powerful shaman who protects the family and loves him like a son. The old man is one of the 16 major diviners and priests of Ifa, an ancient but emerging global philosophy and religion practiced by more than one hundred million throughout the world today.
Many of the spiritual battles that Aseda waged for James' family involved matters of life or death.  On such occasions the shaman often worked from midnight to dawn for days that stretched into weeks and for weeks that stretched into months.  When James thinks of all the old man has done for his family, he thinks of a bond that will never be broken – a debt that could never be fully repaid. He decides to honor him by returning "home" to document his life, his message to the world and the insights of leading healers/diviners of the Motherland.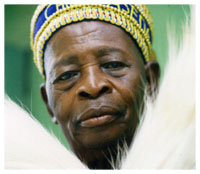 But James is also haunted by the unfinished dream of Dr. Afolabi Epega PhD, a Nigerian chemist and 5th generation Ifa priest who aspired to bridge the gap between science and spirituality before death arrived and stole him away.  That's why James teamed up with Christopher Brown – a talented mathematician and disciple of Epega who is up for his mentor's challenge of weaving the strands of the sacred and physical sciences together.
Accompanied by Tulani, James' daughter, both men vow to cross the King's River together. The King's River is a Yoruba proverb that means one has been assigned a mission that must be fulfilled at all costs – no excuses and no turning back.  Yet, they're all venturing across the King's River for different reasons.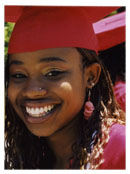 Tulani, 22, is a college graduate, a professionally trained dancer and an aspiring human rights attorney. She wants wisdom and knows that the elders can help her – even if she can't fully grasp how to apply their hard-earned wisdom to her life right now. Though she attended both a Catholic high school and college, she's attracted to the traditions of the ancestors and wants her "grandfather," Aseda, to initiate her as a priestess of Osun, the orisa or divine spirit of love and fertility.
James, 50, is a dedicated father and a haunted man; he's driven night and day by the King's River; a proverb that he sometimes describes as a "great spirit" that will grant him no rest until he fulfills what is asked of him.  His mission is to help others connect with their visions and the best way he knows to achieve this is by being focused on his own – documenting the lives and insights of African healers on a scale that has never been done before. He's adamant about his vision because he has no choice. For him crossing the King's River is not an option but a way of life.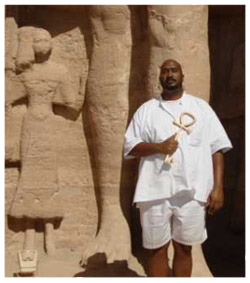 Christopher, 39, is a scholar of comparative religion and holds degrees in mathematics and computer science.  He once worked as a software engineer for the United Space Alliance, the leading contractor for NASA's space shuttle program, and his love for mathematics began at an early age. While other kids just wanted to play, he was drawn to numbers and found joy in memorizing the population of different cities and the names of U.S. presidents.  Though he's equally at home discussing yoga, Hinduism, African spirituality, Buddhism, physics, biology and other disciplines, his life revolves around one mission: bridging the gap between science and religion.
The Journey Begins
After paying tribute to the ancestors in the Caribbean, the first step for the trio is Ile Ife, Nigeria – the orisun, or cradle of the Yorubas.  There, they are welcomed by Aseda, James' spiritual father and Uncle Agbonbon, another one of the 16 major Ifa priest/diviners in the world. These two elders are not only the gatekeepers of deep esoteric knowledge, they are also the chief architects of the King's River project.  By harnessing the immense powers of the divine forces that the Yorubas call the orisas, Aseda and Agbonbon chart the course and the pace of this provocative tribute to the indigenous science of the Motherland.  They have "invoked" the King's River because the forefathers and foremothers have important insights to share with the world in 2012.  But most people may not be ready to deal with the spirit-inspired revelations of the elders.  Are you?
Share and Enjoy