So you've set up an altar (or shrine) for your ancestors, and you make regular offerings to them. Yet, you find yourself wondering if you're truly connecting with Spirit or merely going through the motions.
Here are some tips that I've found helpful for building a stronger connection with your Egungun (ancestors).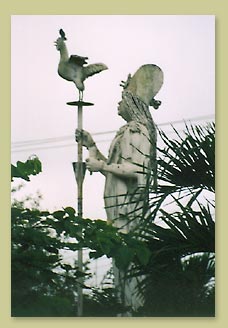 MAKE IT A PRIORITY: Your relationship with your ancestors is just that – a relationship. And like any relationship, you need to be fully committed in order to make it work. You also need to make sure that you are available if you want them to communicate with you. This means spending time in silence, prayer, meditation or any activity that uplifts your spirit or slows down the rhythm of your life so that meaningful spiritual communication can take place.
BE GENEROUS: Yes, the ancestors can guide and help you in ways beyond your imagination. But never approach them with a list of demands. Your loved ones in Spirit work with you but not for you – it's a partnership. Be prepared to give, not merely receive. Remember, your ancestors are not "dead"; they are alive in another dimension and are still learning and growing. The Egungun are fully aware of your thoughts and feelings, so be sure to send them positive energy and love to support them on their spiritual journey too.
BE OPEN: Despite what some people might have you believe, the ancestors have no limitations when they want to communicate with you. They can use anyone or anything to deliver a message: they can communicate through dreams, feelings, inspiration, nature, literature and music. And they are not stuck in the past. They are fully aware of modern technology and can manipulate lights, television sets and even cell phones to get your attention. Be open and alert. They know you well and will use the best method to get through to you.
BE TRUSTING: Don't expect a lightening bolt from the sky. Messages from Spirit are often subtle, soft. So subtle that you might miss them. Pay attention to your feelings because ancestors often communicate through feelings – not words. Pause for a moment. How do you feel right now? Where is it that feeling coming from? Is it coming from you or from Spirit? What inspired you to read this article? Was it your idea or did your ancestors inspire you to read this? Spirit is all around you and guide you more than you realize. Trust what you feel inspired to do.
TAKE ACTION: Don't waste Spirit's time. One of my mentors said this to me one day. It takes a lot of energy for your ancestors to communicate with you. And you're wasting their time if you never listen or do anything to move your life forward. Are you living in fear or faith? Are you taking steps to empower yourself? Are you empowering others? Are you leaving a legacy that others might aspire to follow? Take at least one step each day to move your life forward. Your ancestors are alive and well. Make them proud by living your life to the fullest.
Blessings
James Weeks
Producer, Across The King's River
Share and Enjoy