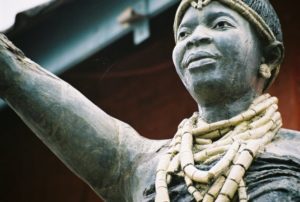 Hard, frustrating- that's how I would describe my last trip to Nigeria in 2008. I went to start laying the foundation for the film, and I didn't have a crew. But I had the support of friends, the elders and the orisas. Why was it hard? It was hard because I didn't have time to shoot all of the footage I wanted. It was difficult because my dear friend Ifasola was working through some problems with his family and that distracted us from fully focusing on what we arrived in Nigeria to do.
I felt frustrated as I left Nigeria to return to the U.S. But as I look back at all the exciting developments that have occurred since that first trip, I can't help but feel inspired. Our website has come a long way, we have a growing Facebook presence, some of the world's leading filmmakers are now part of the team, and finally, we hope to have investors on board very soon to help bring this vision to reality.
Never abandon the dream. Remain committed to the very end. Never let hardship deter you from following the path your heart has illuminated for you.