The Book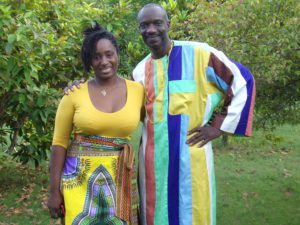 I created the FB page for Across The King's River in 2009 and had no idea my inspirational messages would resonate with so many around the world. For me, sharing inspirational messages has become a mission. I'm dedicated because I know tens of thousands depend on these messages for guidance every day. The human spirit is hungry and must be fed regularly. We all need compelling reasons to move forward especially in the face of adversity. Meditations Across The King's River is powerful food for the soul — it's a hand-picked collection of some of my original affirmations and essays.
In late 2016, something significant happened. One of my clients, Omitola, invited me to the island of Guadeloupe to perform a Yoruba initiation ceremony. Being in Guadeloupe was a moving experience for me. I felt the presence of my ancestors and realized my book must include short essays inspired by my travels throughout the Caribbean and Africa as well. Special thanks to Omitola and her friends for being a catalyst for my book and film.
I have so much to share, like my experiences with an amazing spiritual healer in Jamaica who removed physical objects from my body without surgery. You'll also hear what leading doctors and researchers have to say about healing and Spirit. Meditations Across The King's River was published in 2018 and you can order a copy below.
Blessings,
James
For more information about me, check out my bio on the film page.
To get on the mailing list for this upcoming book, sign up for my free inspirational newsletter below.
Sign up for the mailing list